Murray River, Lakes & Coorong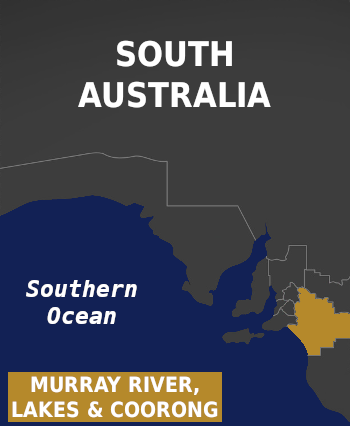 The Murray River, Lakes & Coorong region covers the Murray River mouth and its lower reaches, while to the north is the Riverland region which extends along the upper reaches of the river to the state border.
As one of Australia's great waterways, historic towns can be found along the Murray River which thrived back in the days when river transport by paddle steamer was king. Explore the river on a houseboat, try some fishing or enjoy a stroll along riverfront tracks.
Along the coast south-east of the Murray River mouth is the Coorong National Park. This internationally recognised wetland features remote sandy beaches and salty lagoons, providing a haven for birdlife. Relics from Aboriginal campsites can be found that date back thousands of years.
Extending inland and east to the state border with Victoria is an area known as the Mallee. Consisting of vast plains, it is home to agricultural communities steeped in history and vast conservation parks.
Destinations