Limestone Coast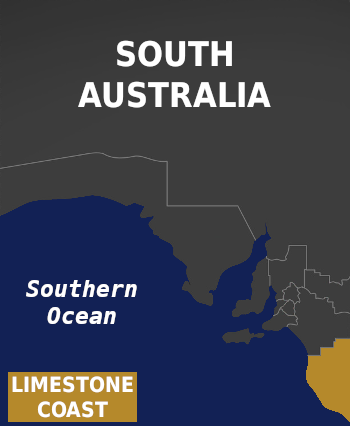 The Limestone Coast covers South Australia's far south-eastern corner. It takes its name from deep limestone deposits which have created many caves and sinkholes.
Along the coast that fronts the Southern Ocean are relaxing holiday towns, mesmerising sandy beaches and dramatic rock formations. Water enthusiasts can enjoy surfing, swimming, fishing and scuba diving. Nature lovers can explore national parks and observe abundant birdlife in wetlands and lakes.
Head inland to the premium Coonawarra wine region, noted for its red soil. The surrounding rich volcanic plains support a diverse range of agricultural industries. Enjoy sensational local food and wine at bistros and restaurants throughout the region.
Destinations

Mount Gambier
The second largest city in the state sits atop an ancient volcano with caves, sinkholes and the legendary Blue Lake.

Port MacDonnell
Fishing village with a rich maritime history and known as Australia's southern rock lobster capital.